Freda F. Peck, 89, Enjoyed Reading and Arts and Crafts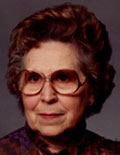 Freda F. Peck (nee Hildebrandt), 89, of Vermilion, died Thursday, October 30, 2003 in Kingston of Vermilion.

She was born May 22, 1914 in Leamington, Ontario.

She was co-owner with her husband, Harry John Peck, of Peck's Cottages in Vermilion and had worked for Firelands Floors, Vermilion.

Mrs. Peck was a member of St. Mary Catholic Church where she was active in an Altar and Rosary Society and was a communion distributor. She enjoyed reading and arts and crafts.

Survivors include her daughter, Linda Smiley, PhD., of Magdalena, New Mexico; 3 grandchildren and 3 great grandchildren.

Preceding her in death were her husband, ]Harry John Peck, 1967; son John 1980; brothers, Arthur Wilson Hildebrandt, 1995 and Wilson Charles Hildebrandt, 1972; sisters, Ruthema Olive Green, 1992 and Ida Margaret Hildebrandt, 1932 and her parents Charles Frederick and Edla (nee Cullen) Hildebrandt.

Friends may call Sunday, November 2 from 5-8 p.m. at the Riddle Funeral Home, 5345 South Street, Vermilion, Ohio.

Prayers will be said at the funeral home Monday at 9:30 a.m. followed by a Mass of Christian Burial at 10 a.m. at St. Mary Catholic Church, 731 Exchange Street, Vermilion. Father Jim Holmer, pastor, will officiate.

Interment will follow in Maple Grove Cemetery.

Contributions may be made to the Peck Family Grant, in Memory of Harry, John and Freda Peck c/o of Vermilion School Board of Education, Attention Treasurer, 1230 Beachview Drive, Vermilion, Ohio 44089.