George M. Higgins, 90, Licensed Stationary Engineer for Lorain Public School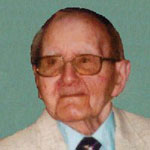 George M. Higgins, age 90, of Mansfield, and a former resident of Lorain County, died Saturday June 10, 2006 at the Med Central Health Systems Hospital in Mansfield following an extended illness.

George was born in Bellmore, Long Island, New York on November 30, 1915 and had been a resident of Mansfield since 2002 coming from Amherst Township. He had been a resident of Lorain from 1940 through 1993.

Mr. Higgins was employed as a licensed stationary engineer and boiler operator in the maintenance division of the Lorain Board of Education; he retired in 1980 following a career that spanned three decades with the school system. He was later employed by the Kohlmyer Sporting Goods Company of Lorain.

George was an accomplished drummer and performed with a number of Lorain area bands and combos including the Jimmy Dulio Band and the Jolly Boys from 1941 through 1974.

He was a parishioner of Saint Peter Catholic Church in Mansfield and a was former parishioner of Saint Vitus Croatian Catholic Church in Lorain.

Survivors include his wife of thirty-seven years Helen V. Milli-Higgins (nee Michalski), stepson Alex Milli and his wife Lana of Mansfield, stepson George Milli and his wife Pam residing in Westerville, Ohio, stepdaughter Carol Ann Cox and her husband Steven of Clarksville, Indiana, five grandchildren, and one great grandchild.

He was preceded in death by his parents Maurice and Emily (nee Callan) Higgins, by a sister Mary, and by his brother William.

Friends may call Wednesday June 14th from 10:30 a.m. until time of funeral services at 11:30 a.m. in the Gluvna-Shimo-Hromada Funeral Chapel – 3224 Broadway Avenue – Lorain. The Reverend Simon J. Nekic, pastor of Saint Vitus Catholic Church will officiate. Burial will follow in Calvary Cemetery – Lorain.

The family requests that donations be made to either Saint Peter Catholic Church 104 West 1st Street – Mansfield, OH 44902 or to Saint Vitus Catholic Church – 1785 East 32nd Street – Lorain, OH 44055.